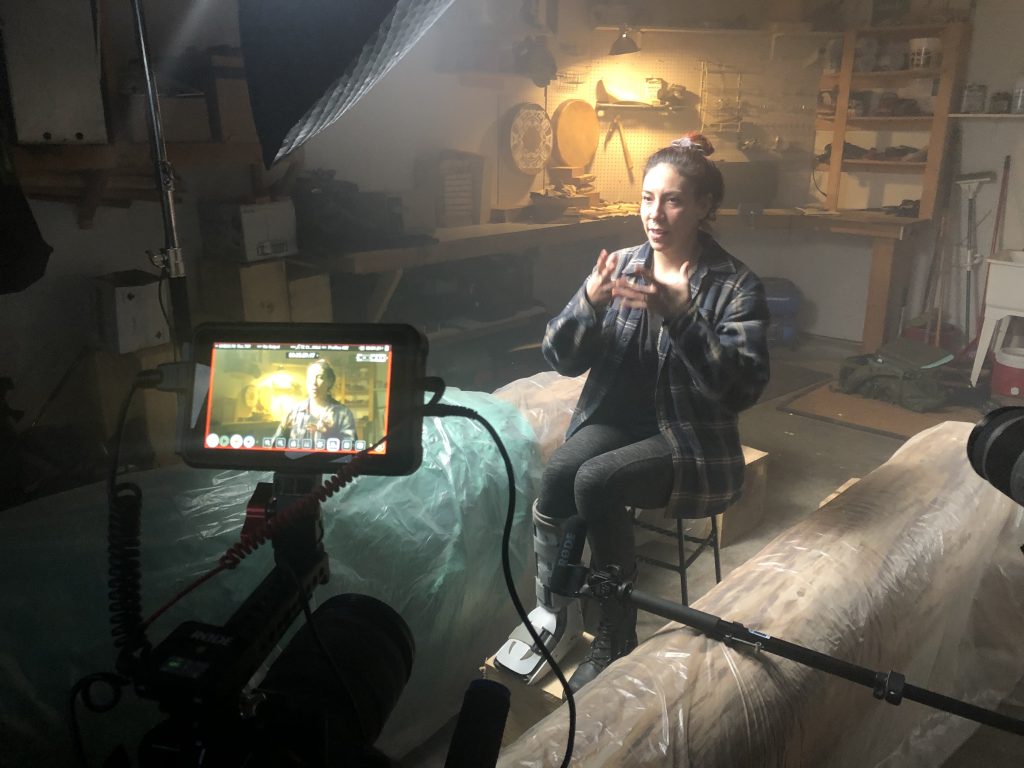 Pictured above: Behind the scenes of a content shoot featuring the arts & trails TRTD project. This content production is in partnership with Freehub Magazine. 
Through the Province's Stronger BC economic recovery plan (Targeted Regional Tourism Development Initiative - TRTDI) is funding the Art, Sculpture & Trail Initiative. This initiative developed partnerships between Northern BC Tourism Association, Western Canada Mountain Bike Tourism Association, the Nisga'a Village of Gitwinksihlkw, the City of Terrace, and mountain biking organizations for Terrace (TORCA) and Burns Lake (Ride Burns). Patrick Lucas, founder of the Indigenous Mountain Bike Program is the project advisor and the one who originally conceptualized this project. 
The partners are installing outdoor art pieces on low use/impact mountain bike trail networks to enhance the visitor experience through sharing stories or a connection with the land and to motivate and inspire the visitor to extend their visit and explore more of the community.
Our content team recently visited the northwest to meet with and interview the talented artists (Leona Price and Kobe Antonie for Burns Lake, Kari Morgan for the Nisga'a Village of Gitwinkihlkw, and Steve Rogers for the City of Terrace). This behind the scenes content capture will document the process of the Art, Sculpture & Trail Initiative from concept to installation and will be used to develop a large-scale, multi-media project in partnership with Freehub Magazine.
This initiative hopes to build upon successes and to continue to enhance the Ride North 16 experience to further establish the region as a unique mountain biking destination.