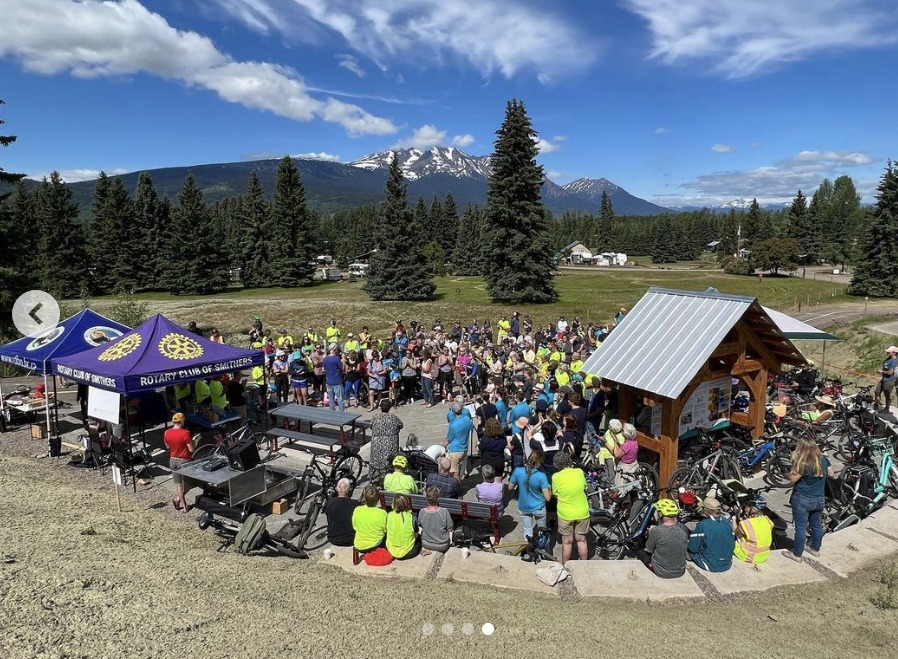 Cycle 16 is a 12-kilometer multi-use trail that will seamlessly connect Telkwa and Smithers. This paved trail is a game-changer, providing a safe transportation option for people of all ages and fitness levels.
Last Saturday, June 10th, they celebrated the Grand Opening of Phase 1, exactly one year after the groundbreaking in 2022! The event brought together cyclists of all ages, joined by guest speakers including Smithers Mayor Gladys Atrill, Telkwa Mayor Brad Layton, Regional District of Bulkley-Nechako Director Mark Parker, and the lively Emcee, Stikine MLA Nathan Cullen. It was a community effort, with local radio station CICK providing the speakers and enthusiastic cyclists generating power so everyone could hear. As we mark this significant milestone, we eagerly look forward to the next phase, excitedly anticipating the trail's expansion and the increased connectivity it will bring to our region.
Through the Province of BC's TRTD fund, Northern BC Tourism Association supported the development and installation of the bench and informational kiosk at the scenic viewpoing where the grand opening of Phase 1 took place.
The project supports goals and actions from the Northwestern BC Destination Development Strategy by continuing to improve trails and trail networks to meet the needs and interests of existing and future visitors.
Congratulations to the Cycle 16 Trail Society who have worked hard to achieve this milestone!