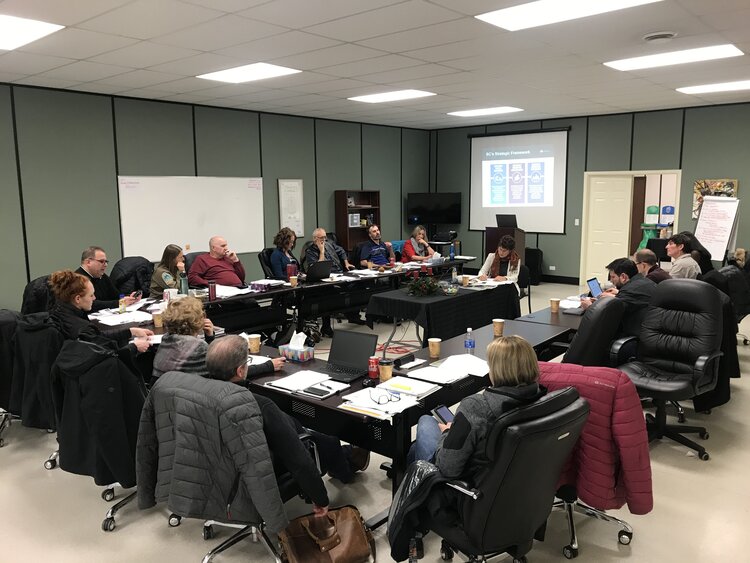 NBCTA's Destination Development Specialist, April Moi, and Indigenous Tourism Specialist, Lucy Martin, joined Marketing and Communications Specialist, Amber Harding, in Fort St. John on November 26 and 27 to discuss the implementation of the 10-year Northeastern BC Destination Development Strategy with stakeholders.
This facilitated session was attended by 24 tourism champions involved in the Destination Development Planning process that that was guided by input from over 160 Northeastern BC tourism partners. In partnership with Destination BC, the Ministry of Tourism, Arts and Culture, and Indigenous Tourism BC, Northern BC Tourism coordinated the development of the Strategy and is now facilitating the implementation of the objectives and action items alongside the Destination Development Committee.
Members of the group shared the status of current tourism activities and reviewed initial implementation steps for the majority of the Action items noted in the Strategy. The group also agreed to continue to work together to move the Strategy forward as the Northeastern BC Destination Development Committee, under the guidance of Northern BC Tourism.
Northern BC Tourism would like to acknowledge the group's tremendous commitment to the destination development process. Additionally, we would also like to thank Mary Jane's Kitchen & Catering for the excellent food and Treaty 8 Tribal Association staff for their hospitality and use of their boardroom.
You can view the full Northeast Destination Development strategy online here.