The Northern BC Tourism monthly research email is sent out on the first Friday of every month.
In 2020, Northern BC Tourism invested in a research program through the BC Regional Tourism Secretariat. The
Northern BC Tourism has invested in a research program through the BC Regional Tourism Secretariat. The data is obtained from the Environics Analytics Visitor View Canada Program and allows us to see the volume of visitors to Northern BC, as well as the types of visitors who are coming to our region.
We update our website on a weekly basis and you can use the link below to access this data.

Northern BC Tourism Association recently worked with Symphony Tourism Services to obtain research specific to four different regional areas of Northern BC. The full reports can be viewed at the links below.

Northeast BC
Prince George
Northwest BC

The data shows visitor insights from BC and Alberta visitors for Q1, Q2 and Q3 of 2019, 2020 and 2021. Q4 data will be updated in early 2022. Number of visitors, overnight stays, top PRIZM segments and EQ segments is some of the data included in these reports.
Initial Key Findings

- Top visitor segments to Northeast and Northwest BC align with the top visitor segments to Northern BC overall
- You start to see differentiation in the top segments visiting when you look at 2nd, 3rd, 4th top segments for each region
- As is expected, Haida Gwaii has very different visitor segments than the rest of Northern BC
- Visitor numbers are similar for Northeast and Northwest
- Northern BC residents make up a large number of travellers within the region - Prince George remains a top origin city for both Northeast and Northwest BC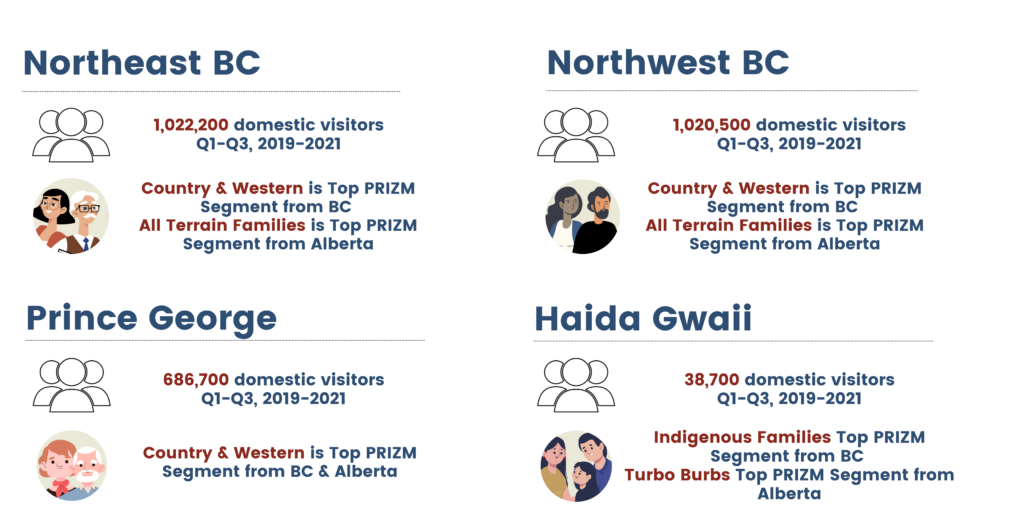 The Measuring Canadian Travel Patterns dashboard created by Environics Analytics helps the Canadian travel and tourism industry understand the impact of the worldwide COVID-19 pandemic as it relates to Domestic Overnight Visitors within Canada, its provinces, territories, and tourism regions.
With this dashboard we can easily compare visitor travel patterns (to prior weeks in 2021 and year over year 2019, and 2020).

The below visitation data is weekly from January 1, 2021 up to October 24, 2021
Please click directly on the images below to enlarge.



The highlights below are related to the weekly year over year data provided above, up until October 24, 2021.
PRIZM provides insights into more than 30,000 variables including demographics, consumer preferences, lifestyles and values tied to postal codes. There are 67 PRIZM Clusters in Canada.

Below are the top three British Columbia PRIZM Visitor Segments to Northern BC (i.e. visitors coming to Northern BC from within BC).
Each month we will feature one of our top visitor segments. This month, we are featuring Indigenous Families. This segment was the third highest segment of BC visitors coming to Northern BC 11 months of the year in 2020. In our last two newsletters, we featured the top two segments: Country & Western and Suburban Sports.