TRAVEL MEDIA RELATIONS
Northern BC Tourism works with journalists, freelance writers, social influencers, editors and broadcasters on travel-focused stories to build awareness of our region. We assist with everything from research to travel planning, image sourcing, interview contacts, filming and more.
The relationships we initiate and foster with influential travel writers and media outlets lead to northern BC being featured around the world.
Contact Kyle Flannagan, Media Relations, if you would like more information on our Travel Media Program.
Banner image: Exstew Falls, Terrace (Destination BC / Grant Harder)
September 22, 2019
Snorkeling with Salmon is Your Next Underwater Adventure READ ARTICLE >>
Desperate to swim with a spawning salmon, I fling myself into the Kispiox River even though the fish are late and haven't been seen yet this year. They don't call this murky, winding waterway the "hiding place" for nothing. Before I can search the shockingly cold water for fish, I call out for a lifejacket to go with my ill-fitting wetsuit, foggy mask and wobbly snorkel.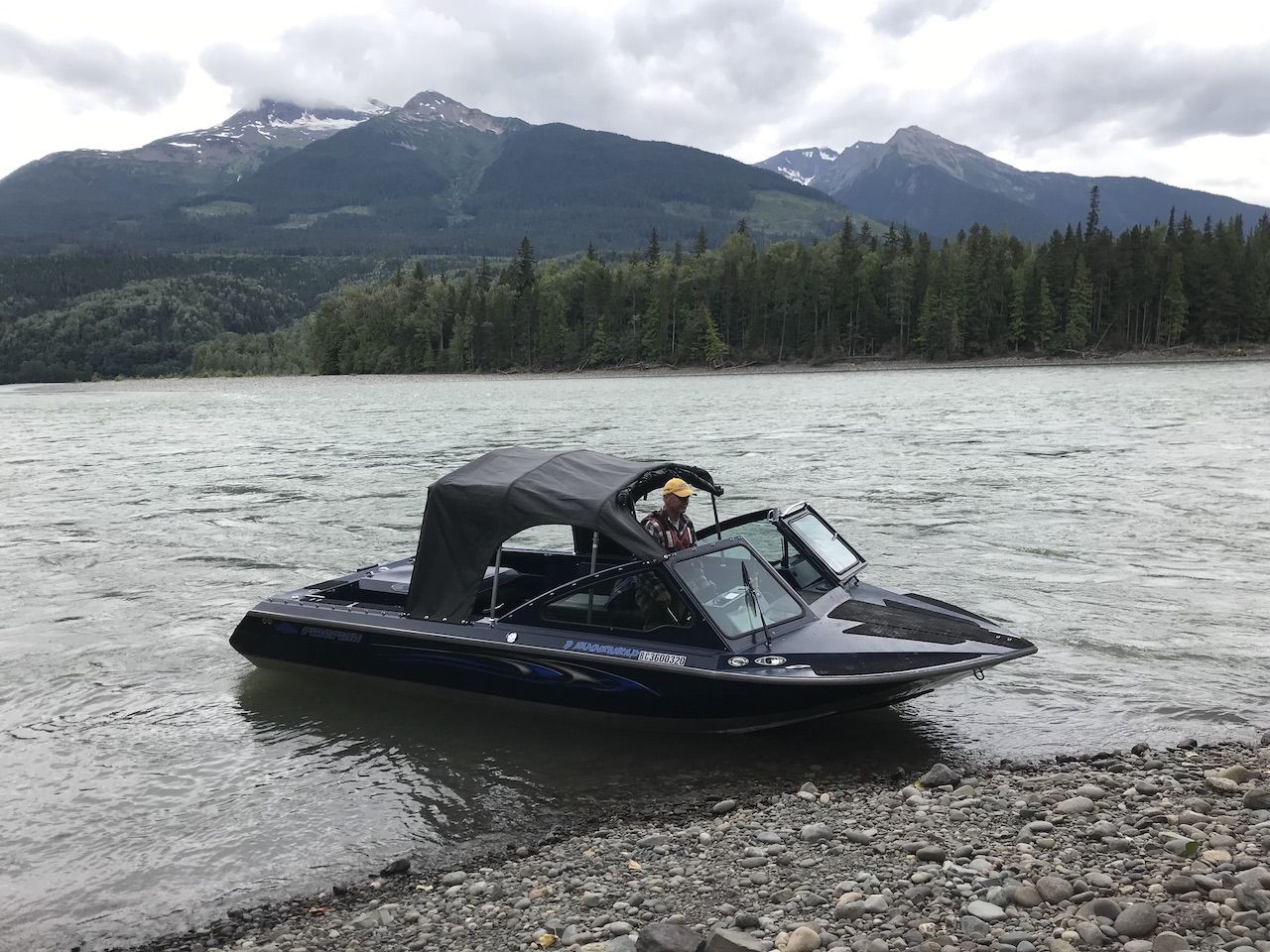 August 26, 2019
For real adventure in British Columbia, head to The North READ ARTICLE >>
THE SKEENA RIVER slices through northern British Columbia, serving as an important lifeline for the communities along its banks from the headwaters in the Spatsizi Plateau until it spills into the Pacific Ocean 350 miles downstream. The Skeena's deep turquoise water contrasts with the bright riverside flora and the dark, earthy hues of the Babine Range peaks beyond.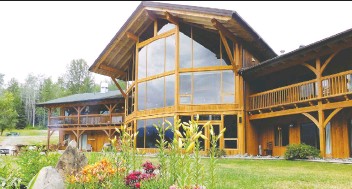 August 24, 2019
Northern B.C. Adventures. Nature, culture and beauty abound. READ ARTICLE >>
The mountain town of Smithers is the gateway for many northern B.C. visits, as it's less than two hours by plane or a 13-hour drive from Vancouver. The downtown Alpen Man statue reflects Smithers' mid-20th-century Swiss influence. Lovers of the Alps will feel at home when they gaze at the 5,413-foot-tall Hudson Bay Mountain.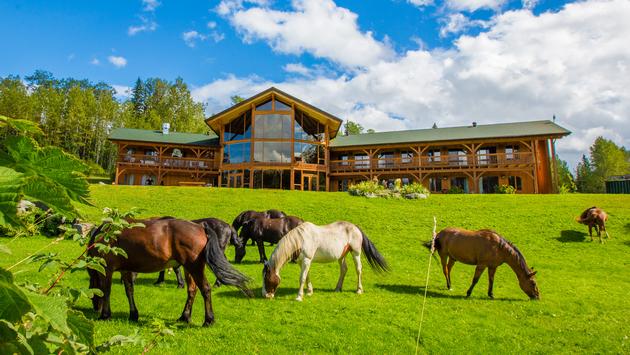 August 23, 2019
Inside Look: Bear Claw Lodge in Northern British Columbia READ ARTICLE >>
You could get pretty lost in Northern British Columbia, which is probably why the Allen family offers to pick up their guests from the airport, about 2.5 hours away. The distance between is full of tall peaks, flowing rivers and many gravel roads. Indeed, the journey to the eight-room Bear Claw Lodge is the perfect introduction to what one can expect to experience on a stay.
August 19, 2019
In search of Canada's indigenous culture in its most isolated corner READ ARTICLE >>
Early morning, and Peel Inlet was church-calm and crisp as glass. Its unruffled surface reflected the shore so seamlessly that you couldn't see the join. Up, down, land and sea had become indistinct; there was only a disorientation of colours. I skimmed my kayak through the mirror of kelp-orange and spruce-green, listening to droplets swash, ravens caw, otters dive. Peachy jellyfish pulsated below. A raccoon foraged for crabs among the pebbles until it struck lucky; so quiet was the world I heard its tiny teeth crack the shell.
August 13, 2019
In Search of a 'Spirit Bear' in British Columbia's Great Bear Rainforest
The wet clouds hang low, sprinkling a light mist down upon the lush valley. The pine trees stand up straight and tall on the hillsides, row by row climbing towards the summit. The river, slicing through it all, is rocky and shallow, the occasional big pool hidden around a corner or behind a patch of rocks. I sit in my kayak, gliding downstream with the current, taking it all in.
August 6, 2019
Bear necessities: Watching grizzlies in Khutzeymateen, Canada READ ARTICLE >>
Sat on the beach she looked utterly serene. As she walked down to the water's edge to take a dip her blonde hair caught the sunlight, shining near golden.
She stopped, took a look at the thick line of western hemlock trees behind her, and made her move. Suddenly a guttural bark came from the forest, swiftly followed by the fast moving of bushes. Seconds later, a huge male grizzly bear emerged into the clearing.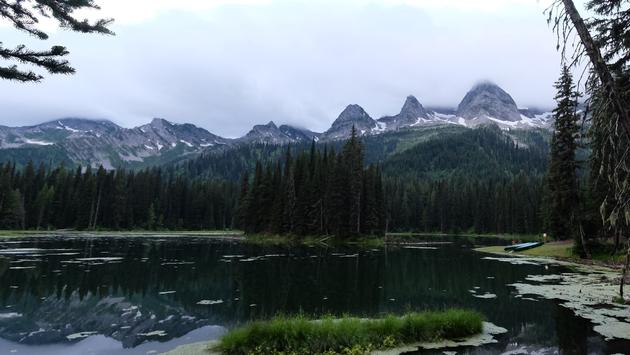 August 10, 2019
5 Reasons to Visit Northern British Columbia
Most people never get past Vancouver and Whistler when it comes to exploring British Columbia. But, if you check out a map, you'll see that those two areas are nothing but a tiny gateway to the massive amount of terrain that awaits in the upper parts of the province. Wondering what's up there? Here are five things to know.
July 22 2019
Head to Prince Rupert for history and adventure READ ARTICLE >>
"You can't drive into town," says the woman with an amused look. "We're on an island so we have to take a ferry. Not many people know that when they first come here."
The packed bus eventually drives five minutes before loading onto a small ferry carrying a school bus and a handful of cars. The 20-minute journey takes us into the sheltered waters of the Prince Rupert harbour – the deepest natural harbour in North America.
I've come to connect with nature, and learn about the history of northwest B.C.
July 14, 2019
British Columbia: your perfect fortnight mapped out READ ARTICLE >>
British Columbia is the great outdoors on an epic scale: cloud-raking mountains and driftwood-strewn beaches; glacier-fed lakes and salmon-heavy rivers; rainforests cloaked in moss and mist. "Beautiful British Columbia" declare licence plates across the province. It won't take you long to agree.
July 13, 2019
Up close and personal in wild Canada
It was somewhere in Chatham Sound that the rave began, a rhythmic sound of bass, slow and steady and echoing in my chest like my heartbeat. Above it a series of clicks sporadically joined in, with the occasional wail — and, indeed, the occasional whale — disrupting the regularity of the tune with looping melodies.
I wasn't actually at a party, not a human one anyway, but out at sea in search of wildlife in the west Canadian province of British Columbia, just 70km from Alaska, and at that moment, surrounded by a 30-strong pod of rather musical orca.
July 4, 2019
What It's Like to Kayak With Whales in Haida Gwaii READ ARTICLE >>
From my plane window, the islands of Haida Gwaii rise from the Pacific mist like mountains floating in the sky. The chain of 150 moss-draped isles, 62 miles off the northern tip of British Columbia, is known as the Galápagos of the North for the many plant and animal species that exist there and nowhere else. One of the most isolated locations on Earth, it's a place where ancient forests of cedar and Sitka spruce soar hundreds of feet into the air, black bears prowl the shores, and orcas rule the waves.
July 3, 2019
Nine reasons to love Haida Gwaii
If you've heard anything about Haida Gwaii, then you probably know it's often called Canada's Galapagos because of its vibrant plant and animal life. It takes time to make your way to the remote archipelago, off the coast of northern British Columbia, but you'll never forget the dramatic landscape, coastal rainforest and Haida culture. Here are nine reasons to make this your next trip.